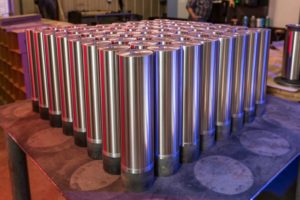 For businesses manufacturing products made of metal, the importance of metal finishing can't be stressed enough. Metal finishing is the process of applying a treatment – metal coatings – to the surface of a metal component or part. Some are corrosion protective or decorative.
Design engineers use a range of coatings and finishes they can specify for metal hardware including fasteners, hinges, latches, retaining rings and wave springs. Most are processed by NADCAP suppliers and have unique properties that optimize performance and protect the product.
Here you will find the most common metal coatings and finishes:
Black oxide
This is used on most metals for its excellent indoor degree of corrosion resistance and it serves as a decorative finish. It is applied to brass, copper and bronze plated parts to match colors. Tone and color vary from black to almost the original color.
Cadmium plating
Carbon steel with cadmium plating increases corrosion resistance. Spiral retaining rings may become subjected to hydrogen embrittlement and the process of cadmium plating can be costly. Some experts suggest stainless steel as the preferable option to cadmium.
Oil dip
This is the standard finish for carbon steel hardware. The oil provides corrosion resistance during storage and transport. However, it should not be considered as a permanent finish.
Passivation
Passivation gives steel a bright finish as well as an increase in corrosion resistance. This process dissolves iron particles and other elements that have gotten stuck on the surface of steel during production. If untreated, this can bring about rusting and discoloration.
Zinc phosphate
This finish is gray-black in color. Sometimes called Parkerizing, it increases corrosion resistance more than black oxide. It cannot outperform cadmium plating for its corrosion resistance. However, phosphate cannot be used on stainless steel.
Consider what your ultimate goal is when determining which metal finishing process is for you; whether it is enhanced appearance, electrical conductivity, corrosion protection or another purpose.
Contact N&S Flame Spray today to learn more about our options for metal finishing services.