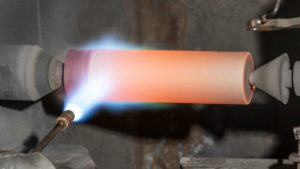 At N&S Flame Spray, we have the equipment available to meet the many needs of our customers.
In fact, we have invested in our company to ensure we're able to meet the needs of the industries we serve for many years to come!
Here's just a sampling of the pieces of machinery currently in operation:
Turning
3 Puma 400 C Big Bore
LaBlond 18 1/2" X 52"
6 HAAS CNC Lathes Model SL-30
7 HAAS CNC Lathes Model ST-30
2 - HAAS TL-2 CNC / Manual Turning Center Lathes
Milling
AMCV 1060 Machining Center *
Coolant Through Tool Holder Bridgeport 9" X 32"
Victor 9 3/4" X 54"
Grinding
Spraying
Wall Colmonoy Metalizing Guns & Equipment
Metco Ceramic Spray Guns & Equipment
Metco Nickel Spray Guns & Equipment
Spray Lathes
Misc.
Hydraulic Press
Kelco Grit Blaster
Full Welding Equipment Mig ~ Tig ~ Stick
Full Inspection Equipment
*

AMCV 1060 Machining Center
Remote Pendant
Flat Chip Conveyor
4th Axis
Coolant Through the Spindle System